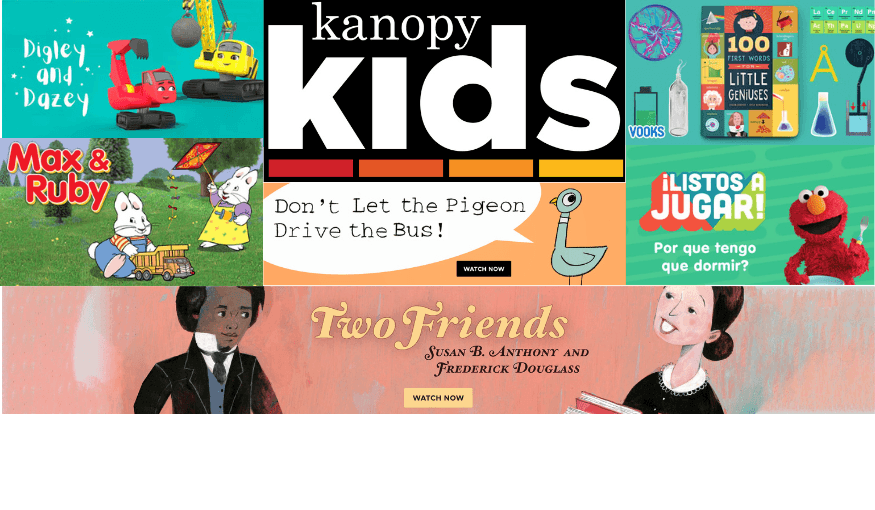 If you already signed up for Kanopy PLUS for free with your library card, you will now also be able to access Kanopy Kids, a collection of educational and entertaining content for kids aged preschool and up. Parents and caregivers can stream videos from a curated selection of educational and enriching videos on Kanopy Kids with developmentally appropriate, age-based ratings from Common Sense Media, as well as additional parental controls to help keep kids safe. Kids' categories include TV Series, Learning Languages, Animated Storybooks, Anime Favorites, Classic Films, and Movies for the Whole Family. Key titles include Arthur, Babar, Franklin & Friends, Maya the Bee, Wild Kratts, Between the Lions, and Little Pim. The collection also highlights classic films from Charlie Chaplin & Buster Keaton and Oscar® nominated titles, including A Cat in Paris and The Secret of Kells, plus family-friendly documentaries, Girls Rock and The Endless Summer.
Why Do Parents LOVE Kanopy Kids:
Educational Content: Kanopy Kids offers a diverse selection of educational and entertaining movies, tv series, animated storybooks, live-action, and more.
Peace of Mind: In Kids Mode, your child will only have access to child-appropriate content through strict parental controls.
No limits: Your child can stream their favorite titles again and again while in Kids Mode.
You can stream Kanopy Kids on any of your favorite devices! Kanopy Kids is accessible via mobile and tablet apps for iPhone and Android. You can also access Kanopy on your desktop, and SmartTV apps like Roku, Apple TV, and Fire Stick or find it in the 'Extras' section of the Libby library app. Kanopy Kids titles can be accessed within our current collection at https://ccls.kanopy.com, or you can access kids-only content at https://ccls.kanopy.com/kids.